UX
Absentee and Telephone Bid Forms

The client, Michaan's Auctions, needed an updated responsive design for their absentee and telephone bid forms. These forms were not responsive and had well over 50 form fields on a single page, making it difficult to navigate on mobile or tablet platforms. I set out to address these new browser platforms, improve conversions and increase revenue for the company.
My role
UX & UI Design
Front-End Development
PHP Form Integration
SaveSave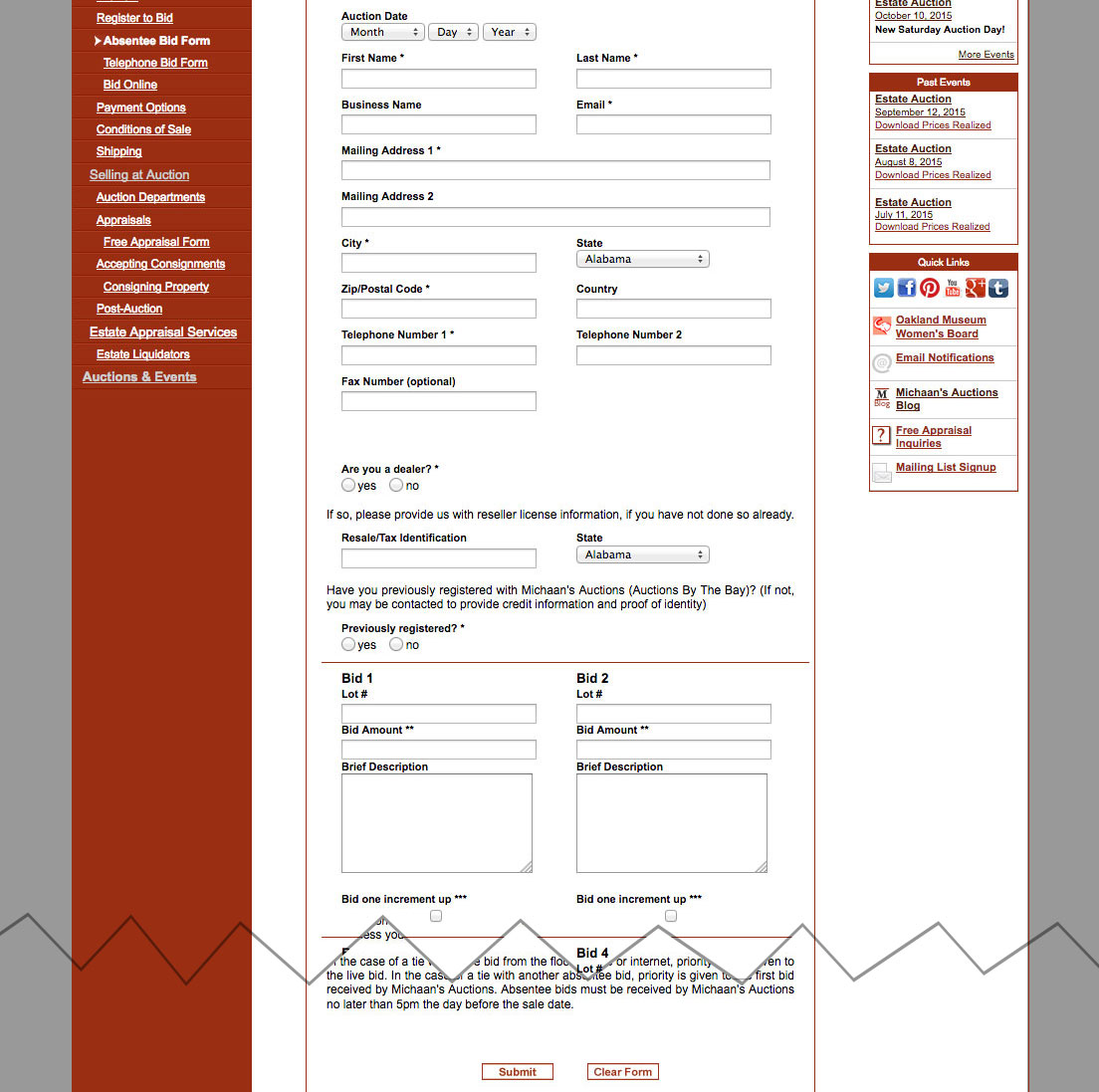 The Problem
Website analytics data suggested that the michaans.com was an underutilized tool for bidding. An average of 5% of auction participants used the website to submit absentee or telephone bids. Of these, mobile and tablet users accounted for only 1.5%. Reducing online bidding form friction and accommodating mobile and tablet users had the potential to raise the overall company profits by as much as 20% or more. Site analytics data showed that users on mobile and tablet platforms were exiting the process before form submission. Could a responsive redesign of this feature bring in a significant increase of auction bids?
Success Metrics / Goals
The primary stakeholder goal was to grow sales revenue by increasing the number of absentee and telephone bids submitted for auctions on new platforms.
Measurement for success would be demonstrated ease of use through usability testing and an increase in the number of online bid submissions by at least 50% and tablet and mobile bids by at least 50%.
---
Process
Research
Competitive research was conducted, noting and analyzing responsive web form design patterns.
Sketches
Quick, iterative sketches were used to establish how content would translate to a mobile-first approach.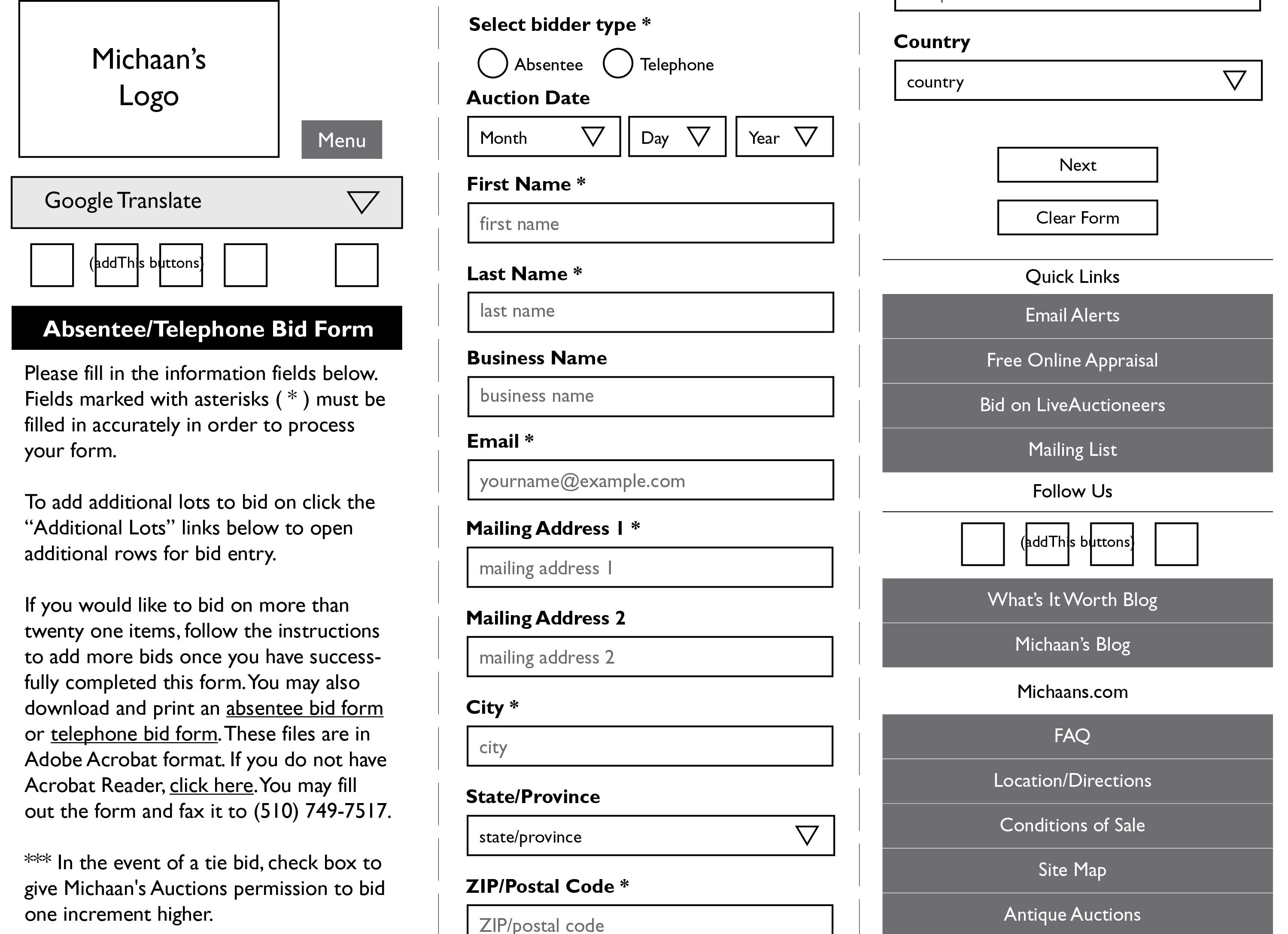 Wireframes
The existing absentee and telephone bid form designs were cumbersome on the mobile platform, having too many fields to fill in on a single page. Following current form design trends, I broke the bid forms into multiple pages, so as to spoon feed the form data to the user in smaller chunks.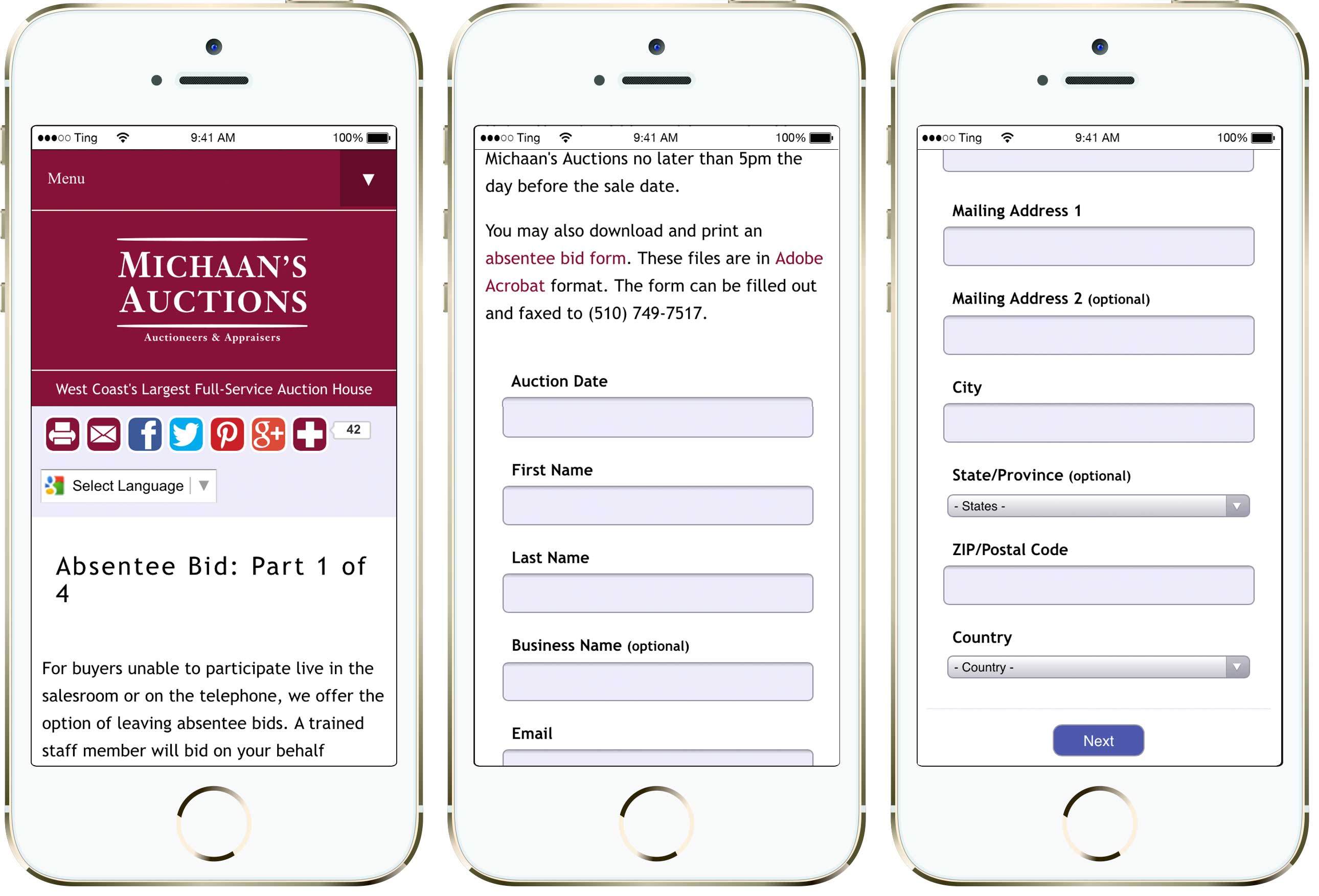 Prototype
I created a high-fidelity prototype in HTML and CSS, allowing me to refine the interface and navigation elements.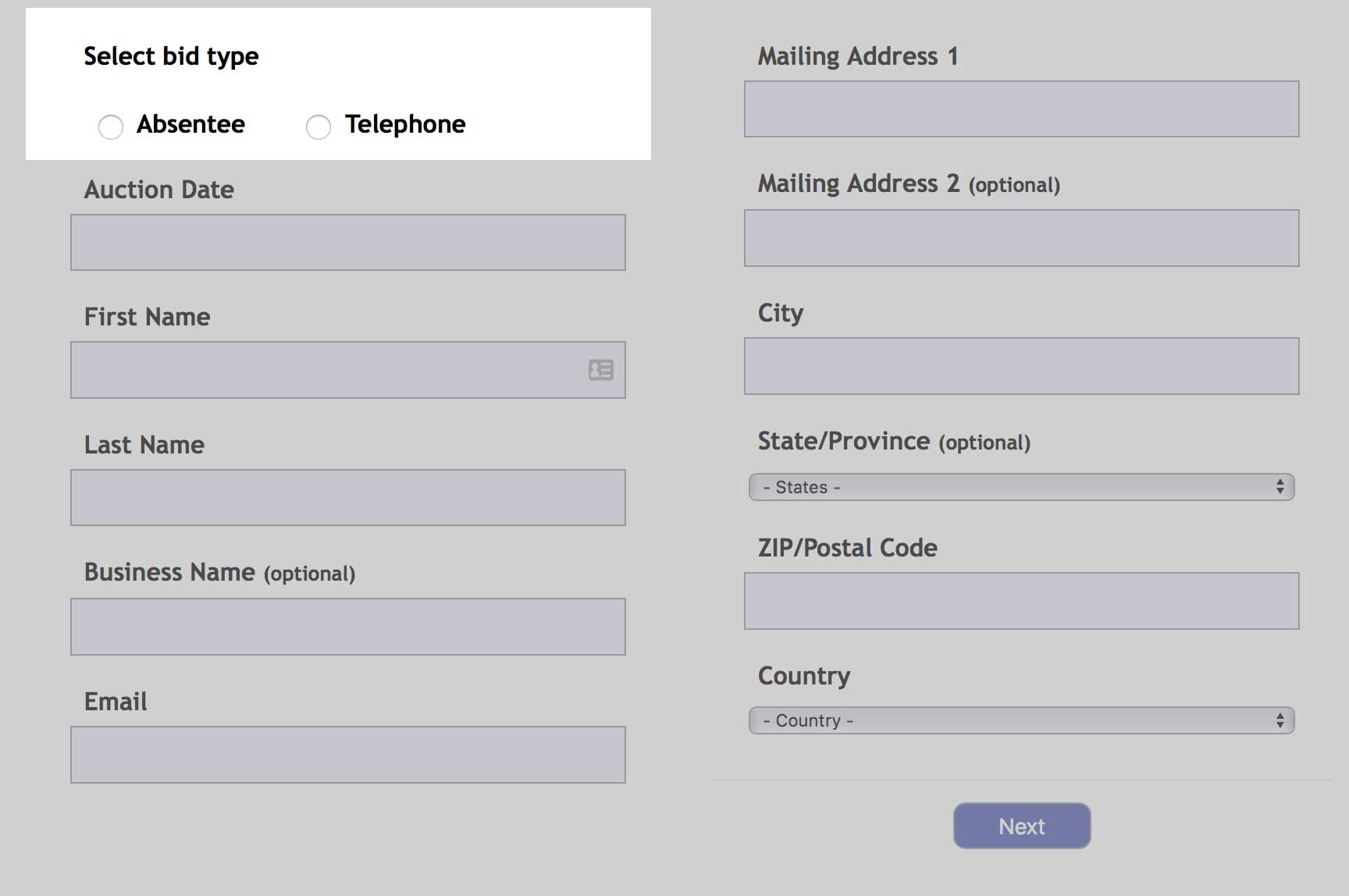 Separating Absentee and Telephone Bid Forms
In an early prototype, I had tried consolidating absentee and telephone bid forms into a single form, with a radio button option to select the type of bids to be submitted. Upon finding this option confusing while testing, the forms were separated into separate pages.
Ongoing A/B Testing
I continued to make improvements to these form pages through design iterations driven by tracking form goal completion with ongoing A/B testing.
---
Conclusion
Measuring Success
When comparing analytics for bid form submissions from the previous site design, I found that primary stakeholder goals were met as absentee bid submissions increased by 77%, telephone by 40% and overall online bids 63%. Mobile and tablet bid submissions on both bid forms tripled in comparison to the previous site.
The absentee and telephone bid forms have surpassed the goals set for the site redesign. Ongoing design iterations guided by A/B testing continue to improve conversions, increasing revenue for the company.
Next Steps
Integration of absentee and telephone bid forms into the company's online catalog will allow the customers to bid contextually, while browsing online lots.